Layla Loves Cookies was inspired by a true story from my own childhood and of course I added a little twist to it! I would have loved to share the entire story exactly as it happened but as you know it is hard to keep the
little ones attention.
When I was coming up I had a little red stool that read:
This little stool is mine
To use it all the time
I reach the things I couldn't
And lots of things I shouldn't
I broke the stool somehow, actually I think my sister broke it but either way it had to be tossed out! Prior to the toss I did use it to reach a lot of things I shouldn't, ESPECIALLY COOKIES! Honestly, I had a pretty good run with the cookie snatching before I got busted!
I found the same vintage stool (geesh that made me feel real old) from my childhood online. Did anyone else have this stool, I did not realize it was so popular.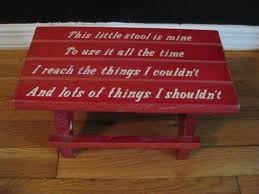 Be sure to order your copy of Layla Loves Cookies and enjoy my little TRUTH WITH A TWIST!